DESIRED STUDENT OUTCOMES
Developed by: W. Huitt
Last Modified: September 2000
Citation: Huitt, W. (2000). Desired student outcomes. Educational Psychology Interactive. Valdosta, GA: Valdosta State University. Retrieved [date], from http://chiron.valdosta.edu/whuitt/col/student/desout.html
---
Return to: | Ed Psyc Interactive: Courses |
---
In my opinion, desired student outcomes can be considered as falling into one of three broad categories: vision, character and competence. Vision deals with ideas about who we are as human beings, our expectations about what is possible, and more specifically, our dreams, goals and desires for our lives. Character deals with issues of the direction and quality of life and is often considered in conjunction with morality and ethics. Competence, in turn, deals with issues of success and expertise. It might be said that vision defines what is possible and what we want, character is a consideration of doing the right thing, while competence is a consideration of doing the thing right.
This theme has been developed by the Labor Secretary's Commission on Necessary Skills (SCANS) as it applies to the domain of work and career. The commission was composed of national leaders from business, government and education; the report was completed during the latter part of the 1980s and the early 1990s. Other authors have contributed to the discussion of the required knowledge, attitudes, and skills necessary for success in the informaton age. For example, Sensenbaugh (1990) provides some additional information about the literacies that will be necessary in the 21st century. Huitt (1997) provides a critique of the SCANS report and proposes additional competencies based on the writings of futurists and behavioral science.
However, education and schooling have a broader focus than simply preparing one for the workforce. They should also provide for success in other important aspects of life. Below is a graphic titled "Becoming a Brilliant Star," that is a modification of Denis Waitley's (1986) "Wheel of Fortune" and Zig Ziglar's (1991) "Wheel of Life." In Waitley's model, there are eight domains on a wheel that should be the focus of the acquisition of wealth or achieving success. In Ziglar's model, your life is a wheel composed of 7 spokes (Spiritual, Physical, Mental, Marriage, Career, Financial and Social). Your competence in each of these areas determines the "length" of the spoke. If all of the spokes are about equal, you roll through life rather smoothly. However, if one or more spokes is shorter or longer than all the rest, life is a bumpy ride.
In the Brilliant Star model, the"Mental" area of Waitley's and Ziglar's models is separated into the three faculties of mind often studied in psychology: Cognition (which relates to thinking and reasoning), Affect (which relates to emotion and values) and Conation or Volition (which relates to will and commitment). These make ten areas of life that have been arranged in a "Brilliant Star" graphic. Character and Style are shown in the center of the graphic as a reminder that doing the right thing and individuality are important in the development and display of competence. The SCANS report and Huitt's (1997) critique provide a good start for identifying the necessary competencies for "life" success, but there is obviously additional work that needs to be done.
STRIVING FOR EXCELLENCE:
Becoming a Brilliant Star
The graphic shown below represents ten areas of life in which one can strive for excellence. Five represent more internal or personal areas (spiritual, physical, cognitive, affective, and conative) and five represent more external or public areas (family, friends, career, financial independence, and social). The graphic is an attempt to make several important points:
we must view desired student outcomes holistically and multidimensionally;
the internal, more personal, domains interact with the external, more social, domains;
character and style are central to the development of the other ten domains;
all of the domains, plus character and style, develop in a context.
The concept of Becoming A Brilliant Star is described in more detail elsewhere on this site. You can download the Brilliant Star graphic (rtf format) and assess yourself. Decide where you are now and draw out your star. (Don't just connect the dots or it will look like a circle). The terms provided after the graphic will help you identify where you are now and what area you might want to concentrate on. Color in the star so that differences in the different domains are readily recognizable. What does you star look like now? What would you prefer that it look like? Select one or two areas for concentrated attention.
You might want to develop a mission statement as one way to help you think about your priorities. In addition, Waitley (1996) advises imagining what your day-to-day activities would be like if time and money were not an object in your life. That is, what would you do this week, this month, next month, if you had all the money and time you needed and were secure that both would be available again next year.
Now, set some one year goals and some immediate goals and write them down. Take some action everyday as you work to complete your goals. Make a checklist and hold yourself accountable. Develop an affirmation statement to help you stay focused on your transformation. You may click on any of the terms in the graphic to get more information about that area.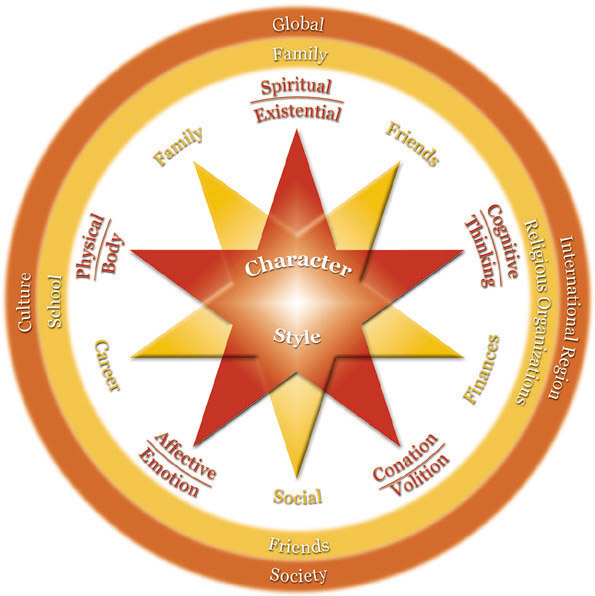 BECOMING A BRILLIANT STAR
STRIVING FOR EXCELLENCE
DIMENSIONS
EXCELLENT/
MAGNIFICENT
ADEQUATE/
MEDIOCRE
SUBSTANDARD/
INFERIOR
GENERAL
Persevering
Persisting
Striving
Fluctuating
Vacillating
Oscillating
Quitting
Stopping
Abandoning
SPIRITUAL
Disciple
Devout
Believer
Accepting
Faithless
Profane
PHYSICAL
Vigorous
Robust
Well
Healthy
Sick
Feeble
COGNITIVE
Wise
Brilliant
Knowledgeable
Intelligent
Ignorant
Dull
AFFECTIVE
Optimistic
Enthusiastic
Patient
Confident
Self-efficacy
Skeptical
Responsive
Tolerant
Encouraging
Uncertainty
Pessimistic
Apathetic
Impatient
Insecure
Self-doubt
CONATIVE
Courageous
Determined
Goal-oriented
Self-regulated
Compliant
Agreeable
Cost-oriented
Other-regulated
Timid
Hesitant
Non-focused
Non-regulated
FAMILY/F

RIENDS

Dedicated
Trustworthy
Courteous
Faithful
Respectful
Attached
Accountable
Civil
Reliant
Polite
Uncommitted
Unreliable
Rude
Unfaithful
Insolent
CAREER
Highly
Competent
Successful
Failure
FINANCIAL
Financially
Independent
Pay Check
To Pay Check
Poverty
SOCIAL
Transcendent
Humble Servant
Socially-minded
Good Citizen
Prideful
Self-centered
References:
Huitt, W. (1997). The SCANS report revisited. Paper delivered at the Fifth Annual Gulf South Business and Vocational Education Conference, Valdosta State University, Valdosta, GA, April 18. Retrieved December 1999, from http://chiron.valdosta.edu/whuitt/col/student/scanspap.html.
Sensenbaugh, R. (1990).Multiplicities of literacies in the 1990s. ERIC Digest. (ED320138). Retrieved December 1999, from http://chiron.valdosta.edu/whuitt/files/literate.html.
Waitley, D. (1986). The twelve best-kept secrets of success. New York:
Waitley, D. (1996). The new dynamics of goal setting: Flextactics for a fast-changing world. New York: William Morrow.
Whetzel. D. (1992).The Secretary of Labor's Commission on Achieving Necessary Skills. ERIC Digest. (ED339749). Retrieved December 1999, from http://chiron.valdosta.edu/whuitt/files/scansrpt.html.
Ziglar, Z. (1992). The wheel of life. Charlotte, NC: Internet Services Corp.
---
| Internet Resources | Electronic Files | Additional Articles | Additional Books |
---
Return to: